Deloycheet Lodge

Whether you're staying with us to visit family or for the hunting season - come stay with us at the Deloycheet Lodge in Holy Cross, Alaska. Our lodge has the capacity to sleep up to 8 people. Most of our bedrooms have two twin beds with flannel sheets and blankets and is complete with a bathroom and hot shower down the hallway to share with other guests. The main lodge has a main living room for all the guests to share that has a 40" LED TV with DVD player and comfortable couches to relax on. Upstairs it has a small conference area with small fridge and coffee maker for guests.

We have one private apartment that has two bedrooms, a full kitchen, bathroom, laundry, and living room. It can sleep up to 4 people. Both rooms can be reserved with either a king sized bed or 2 twin beds. The living room has comfortable couch and loveseat with a 32" LED TV with DVD player.
Our Amenities:
AIRPORT TRANSPORTATION
If the company truck is available, we can take you and your gear to and from the airport in Holy Cross. Please contact the management prior to arriving and departing to make arrangements.

COMMUNICATIONS/INTERNET
A landline telephone will be available to guests upon request. We have an internet connection WI-FI via satellite up-link. You may use this at a minimum charge of $30/day per person, but be aware that we have limited bandwidth and please just use it for emails or checking webpages.

HOUSEKEEPING & LAUNDRY
You should have fresh towels for your stay with us. Your room will be cleaned and beds will be made upon checkout. If you have laundry that needs to be attended to please ask the management.

*Cancellation policy – We need 48 hours prior to your scheduled arrival to cancel or refund any reservations that have been made by phone or credit card.
Deloycheet Lodge Prices:

Summer Rates (May 1 - September 31)
Winter Rates (October 1 - April 30)

Room in Lodge - $125/per night (winter rate)
Room in Lodge - $175/per night (summer rate)

Room in Apartment - $150/per night (winter rate)
Room in Apartment - $200/per night (summer rate)

Airport Pickup & Drop-off - $10.00 each way

Contact: Lodge Manager
P.O. Box 228
Holy Cross, AK 99602
Phone: (907) 476-7177
Fax: (907) 476-7176


Lodge Hours of Operation: M-F 9am-4pm/Saturday & Sunday - on call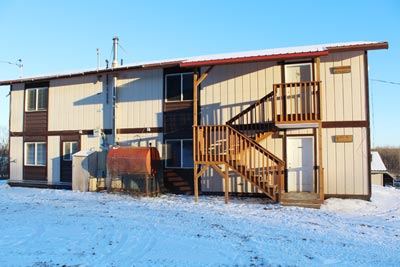 Exterior of Deloycheet Lodge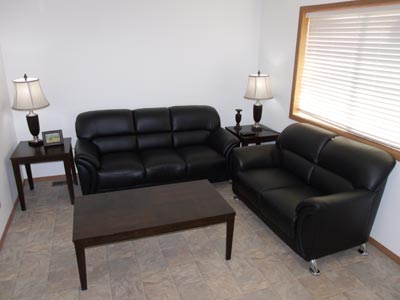 Apartment Living Room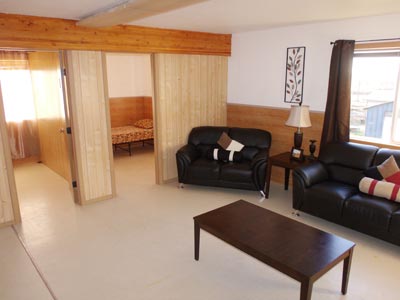 Interior of Deloycheet Lodge - Shared Living Room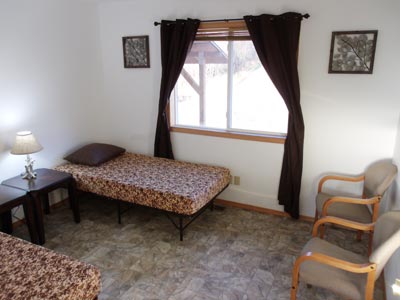 Example of Rooms - Can Sleep 8 in total